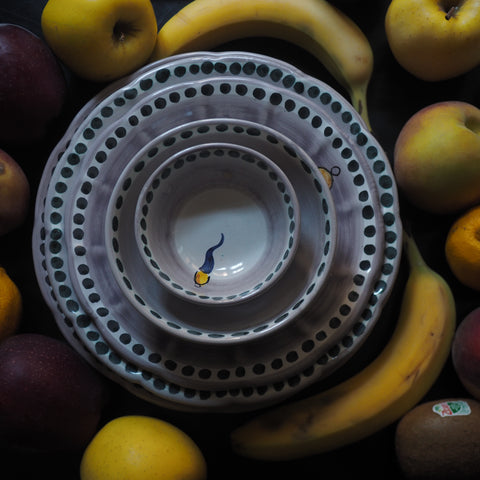 Campania / Vietri
Table set: Basso – Baritono – Tenore
Made in Italy, handmade and hand decorated.
Material: Ceramic
Year:2015

Vietri, Table set
Made in Italy, handmade and hand decorated
This small village on the amalfi coast is known worldwide for the quality of its hand-painted ceramics. Waiting for the bus combines the excellence of the raw material with the "cornetto", the horn, the most recognizable local symbol used to ward off evil, reproducing it on a set of tableware. 
In this way the "o' curniciello" table collection is born.
The cornetto: its use, as a symbolic object, is very ancient; a charm between history and superstition. Traces of it are already found in the Neolithic (3.500 b.c) and in the Egyptian civilization. The Romans associated the horn with fertility. Only in the middle ages did the horn take on magical meaning, becoming the superstitious symbol par excellence. The talisman was supposed to be red like the blood of vanquished enemies and handmade because it was believed that each amulet acquired the powers only from the hands of those who made them.
Artigianato per sognatori
All our products are designed and made in Italy